 Me and my girlfriend are moving to Stirling for an internship at Global Voices from 6th September to 23rd December. We are very friendly. I'm a student of 25 and she is a musician of 21. Needs to be pet-friendly, I have a cat, who is essentially an emotional support animal. He is fully house trained and very friendly. I am moving into the area for university I am starting in 1st year Looking for a room but I am currently unemployed so need someone who accepts dss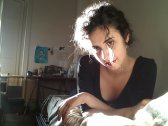 Hello, I am urgently looking for a double/single room in the Stirling City centre. I will be working there from the 1st of Septemer for the entire year. I look forward to hearing from you!