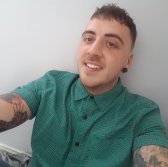 I am friendly hard working and very clean person and I would like to be close to my sister as I live in a shared accommodation and I don't like Blyth thanks and hope I get accepted for a room share please
Dimitar
Newcastle Upon Tyne Christina
Newcastle Upon Tyne David
Newcastle Upon Tyne I am a 22 years old post grad student. Looking for a room in New Castle Upon Tyne for september [phone removed].
Enrico
Newcastle Upon Tyne Giacomo
Newcastle Upon Tyne I am looking for a room starting from the beginning of September (4th ideally). After studying in Newcastle for a year I will be working at the university for 3 months with the possibility to extend to I am a graduate engineer moving to Newcastle, looking for a studio or professional house share with double bedroom and en-suite. My area preference would be within a 1mile radius of NE1
Aleksandra
Newcastle Upon Tyne I am. masters student at Northumbria dedicated to my studies and to playing lacrosse.
Abigail
Newcastle Upon Tyne I am from Mexico and profesional working at Newcastle University as a research associate. I am very nice person, only arrive at home for sleeping because I work the whole day at the university.
Marko
Newcastle Upon Tyne Me and my girlfriend came to Newcastle because she is going to college. I'm looking for a job and we're looking for a place to be in. Thanks&regards